A lot of things can go wrong on a vehicle, but the last thing you want to see is a flat, or unreliable battery. This could cause an interference to your day, either being late to work or simply being dangerous to you and your car.
We will be covering the 5 best car battery brands and models for the UK roads that we've found.
So, Which Car Battery Is Best?
There is no definitive answer. The choice lies with you, the driver. However, we recommend scanning the list below and basing your decision on your engine and cars' needs from the battery. Whether is be a start-stop system, or a large demanding SUV, have a look and decide what battery suits your vehicle the most.
When Do I Need A New One?
There are several main signs to look out for to tell you if you should be in the market for a new car battery, they include:
Engine Performance – If your engine wont start(No starter noise), then there's a good chance you have a dead battery and need a new one. Alternatively, your engine may be struggling to turn over every morning, this is another sign that your battery is on its last days.
Electronics Performance – Similar to your engine, your electrical components rely on your battery. Look out for dim dashboard lights, a Sat Nav screen flicker, and other signs that your onboard electronics are all starting the weaken in sync with each other.
Battery Age: Even if your battery is fighting fit and strong, the average car battery life is 3-4 years. Therefore we would recommend you change your battery in this window of time, before your battery gives up on you unexpectedly.
Our Best Battery Brands For Today: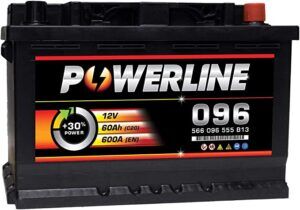 The Powerline 096 12V is a relatively new, lower end car battery brand that has proved itself through its feedback and reviews. It's the ideal battery if you are on a budget, or just need to get your car running temporarily.
Being a budget battery, when compared to the other, more established battery brands you will find that although you may be saving 50% or more right now, you will end up buying a battery again sooner.
However, If you drive a small car, or drive very few miles then this battery should do you justice as it won't be drained as quickly.
Best Car Battery For Large Vehicles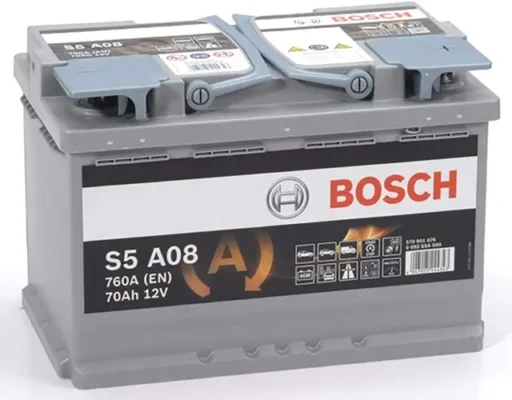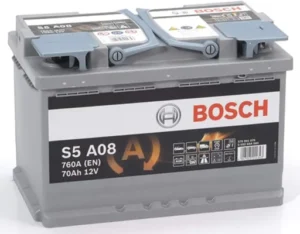 The first BOSCH on the list, and not the last and that's for a reason. BOSCH batteries are a known brand you can rely on for their longevity. They offer a range of batteries for a whole variety of cars.
The S5 range of BOSCH battery is for the premium side of modern cars, as it uses the AGM process which allows larger quantities of power to flow through at a faster rate.
What does this mean to you?
Well, the BOSCH S5 A08 12V is a sufficient match for any large or electrically draining vehicle, so it's ideal for a modern car with many devices, or a large SUV engine demanding power on demand.
The BOSCH S5 A08 is also adapted to suit start-stop system vehicles.
Best Battery For Start + Stop Cars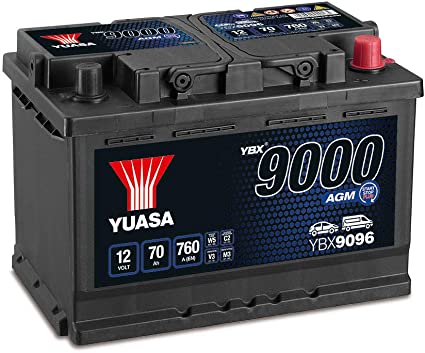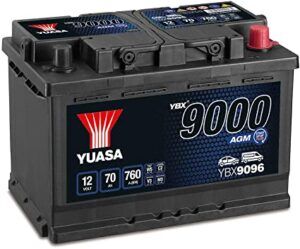 Start-stop technology is becoming an expected feature on modern motor cars now, a feature that will cut the engine to be more fuel economical and environmentally friendly.
The flaw in this engine technology is that the standard car battery doesn't stand a chance to power windows, wipers, headlights and more whilst having the engine temporarily cut. The standard car battery simply won't survive.
This is where specific start-stop batteries come into play. The Yuasa 9000 12V is rated for a whopping 360,000 engine starts, meaning you will have no problem sitting in traffic, or on any journey with a start-stop engine/car.
You can always opt for a cheaper Yuasa if on a budget, but that will come with less rated engine starts. We recommend going for this one.
Best Battery For City/Small Cars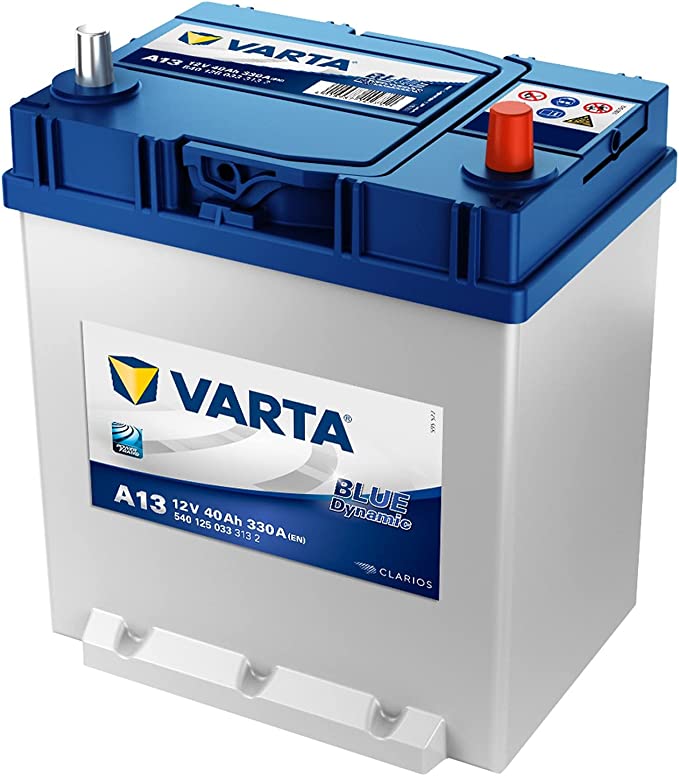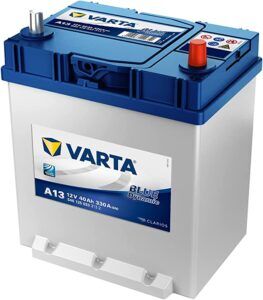 The Varta A13 12V is our choice for an all-round solid car battery, for the smaller car. Several suggestion sites recommend the C22, but the only difference is an increase of 12Ah(Ampere power output/hour).
For the sake of £14, the extra 12Ah isn't worth it if you have a small/basic spec car as it simply doesn't require the power.
Varta is one of the best battery brands for an overall box ticking, and proves itself to be popular among car manufacturers as it has the combination of very fair pricing and quality.
Varta blue dynamic batteries are designed with fast recharging, corrosion resistance, and reliable start ups every-time thanks to its patented power grid.
This car battery is ideal for the small-mid size hatchback, such as the Volkswagen Polo, Volkswagen Up!, and Vauxhall Adam.
Best Car Battery For Medium Sized Vehicles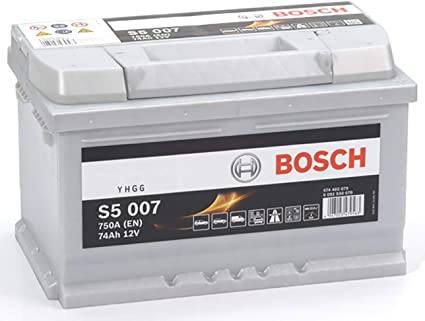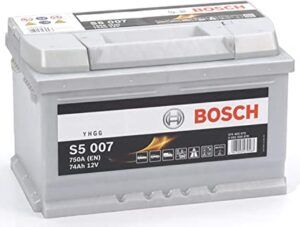 BOSCH is back again on our list, this time with the BOSCH S5 007 12V. The S5 007 harnesses the same Absorbent Glass Mat Technology(AGM) as the other BOSCH on this list, meaning larger quantities of power are on demand for this model aswell.
The difference with the S5 007 is that this is suited for the medium sized car, whilst still offering a lovely power output.
When compared with the S5 A08, you will be saving approximately £50. That's why this is Dan Carrs pick of the list.
Frequently Asked Questions:
Who Makes The Best Car Battery?
Again, this is speculative and depends person to person. However, we would suggest BOSCH makes the best car batteries. This is because although pricey, they offer the best quality. This is seen through our own personal purchases, comparisons and reviews online.
BOSCH have many batteries in their line up that they claim are twice as efficient as other brands, as well as being maintenance free.
What Battery Will Fit My Car?
If you are still a little lost and are not too sure what battery is right for you, or if it will fit, luckily services like Amazon and Euro Car Parts offer a registration number plate search for parts, meaning you can see a definite fit for your vehicle without having to guess.
If you find a battery you want and are still unsure, check the description to see compatible vehicle types/models.