Car shampoo is the key to a good car wash. You need to pick the right one to help your paint, wheels and windows staying healthy and clean. But with so many options to choose from these days, how do you know what car shampoo is best?
Its important to know what the best car shampoo is for your unique situation. Location, paint type, previous washes are all things necessary to consider to know what shampoo is right for you.
That's why we've gathered the highest rated, best quality ones on the market today to bring you a compact, useful list of our top 5.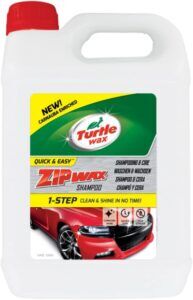 Turtle Wax is one of the biggest car cleaning products in the UK, and that's for a reason. This wax offers a great value for money as it comes in a 2.5L bottle and delivers amazing results, meaning the shampoo should last a good amount of time whilst giving you reliable removal of dirt and grime on your paintwork and wheels.
As it's a wax shampoo, you will have a shining finish on your paintwork afterwards, without having to do the waxing yourself and leaving a streak-free result.
Zip wax has been whatcar?'s best buy car shampoo, along with having 2,668 5* reviews on Amazon.
2. Autoglym Bodywork Shampoo Conditioner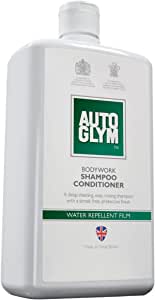 If you know you car brands, you know that Autoglym is a giant that delivers on quality.
This shampoo is the start of their line up, offering the lowest price that is still up to standards with their cleaning quality.
If you spring for the 2.5L version, you will average out 100-120 washes each bottle, meaning that this is the ideal cleaning product for someone on a budget who wants a high quality clean.
Autoglym bodywork shampoo conditioner has 13,678 5* reviews, so it's safe to say this is a well accepted product on Amazon, and in general.
3. Maguiars Ultimate Wash And Wax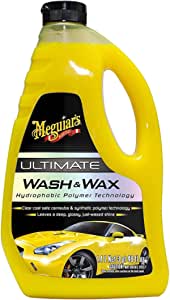 Being another wax included shampoo, Maguiar's ultimate wash and wax will leave a higher level of protection, and a nice amount of water beading onto your finish.
This shampoo may have the edge on others, depending on what your paint finish is, as this is a pH neutral shampoo, meaning it can be used on any paintwork without the risk of damaging it with stronger chemical levels that would be in other car cleaning products.
We ranked it as the easiest to use as it contains wax and carnauba, meaning with a simple wash you will keep wax levels high, or increase them, whilst having premium water beads when you've finished.
Ultimate wash and wax is a very versatile and adaptable shampoo that can be used on any car colour, with results being solid across the board.
4. Autoglym Ultra High Definition Shampoo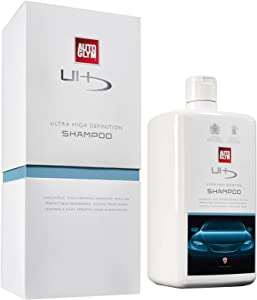 Welcome to Dan Carrs favourite on the list. Autoglym is known for being fantastic with its products, always leaving a satisfied customer with 10/10 results.
This is the ideal car shampoo for someone who wants the best finish on their car without looking at the price. Coming in at £16.93 this is the most expensive on the list, but that's for a reason. It will leave streak free, glossy paintwork whilst cutting through grime, dirt and even brake dust easier than others on the list. This also has a nicer, more invasive smell than the others on this list to leave the sense of a clean car, for much longer.
On Amazon it has an overall rating of 5*, with 994(86%) being 5*!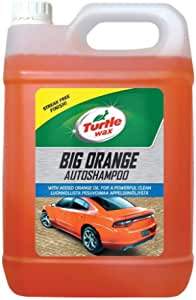 If you are on a budget, this is the one for you. We've already touched on Turtle Wax being a well accepted, premium car cleaning product, so you know that you can rely on the finish of this wash despite the price being as low as £1.80/L!
Although Big Orange may not contain wax like most of the others, it makes up for that with its large quantity for the price, meaning you get most washes for your money. Don't let the price lead you into thinking it lacks results, as it has proven to leave a nice sheen on your car with its 958 5* reviews on Amazon.
With all this being said, you have to be realistic and understand you won't get the higher amount of quality that the other, more expensive shampoo and waxes will give you.
So, what is the best car shampoo?
Its all relative to your car, and what you want as a result. We'd recommend that if you are still stuck and want the best clean, stay safe and pick the highest quality one on this list, being Autoglym ultra high definition.
If you are someone who wants the
best car cleaning kit
out there, check out our post
here
, to make your car cleaning routine even more precise!
Frequently asked questions(FAQ):
What's the best car shampoo I should use for hardwater areas?
We recommend using Meguiars from our list if you live in a hardwater area. This is because it has a mixture of wax and carnauba which will reduce water spots. Being pH balanced, it will also help out hard water problems.
What is the best car shampoo for a black car?
Another win for Maguiars here! Through testing, darker colours have shown up extremely glossy and a large reduction of smear marks after using the ultimate wash and wax, when compared to another shampoo.
What can I use instead of car shampoo?
Ideally, you only want to use a car shampoo to clean your car. The 'go to alternatives' such as washing up liquid, can contain components not safe for your paintwork and can do more damage than cleaning.