Tyre inflators and pumps are life savers when they are needed, and help people get out of tricky spots more often than you think.
Its understandable, then, why the best tyre inflator within your budget should be your priority. By having a solid, reliable car tyre inflator you can get yourself on the road quicker, and have less worry when driving especially if you currently have a slow puncture.
A whopping 40 million tyres are put onto our cars every year in the UK, so lets get into this list of the best tyre inflators, your tyres best friend.
When Should Tyre Pressure Be Checked?
It is recommended by most tyre manufacturers to check the pressure of each tyre at least once a month.
Some Tyre manufacturers, such as Continental, even suggest checking your tyre pressure every two to four weeks.
Dunlop stated that a tyre will lose around 1psi every month. Tyres should be inflated correctly because under inflation will wear out a tyre much faster.
Michelin also said that a difference of 7psi from the manufacturer's recommended amount could reduce the life of a tyre by a substantial 8,000km, or 5,000 miles.
This question is very relative to the driver, and how the car is driven, along with the type of car(weight).
If you drift your tyres or launch from every set of lights…yeah, you can understand how its different.
On average, it is said that
3-5 years
is a good expectation for your standard all season tyre considering you drive 12-15,000 miles a year according to a
Bridgestone
guide.
What To Look For In A Car Tyre Inflator?
Depending how deep your pockets go, car inflators can come with a massive variety of features. Such as a torch, pressure gauge, carry bag and more.
If you cycle or plan to use an inflator for several reasons then its advised to buy a portable one for ease.
If this isn't a problem for you, then we would advise to look for a more heavy duty inflator. This is so you can use it on any sized vehicle in a fast fashion.
If still unsure, pick one that is most aesthetically pleasing on your eye, along with design features.
The Best Tyre Inflators For Cars
1. Halfords 12V Tyre Inflator Pump
Best Budget Tyre Inflator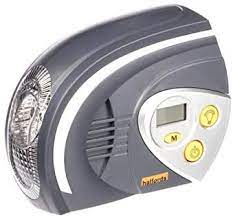 Coming in at £22 we have the best quality pump, for someone on a budget. Halfords is known for pushing out great own brand products and this tyre inflator is no different.
This Tyre inflator comes with a range of adapters to inflate balls, toys and items other than tyres, certainly making it versatile. There is a flashlight built into the side, and a digital display to ensure you can still use this in evening lighting. The one drawback to this pump, when compared to others is that you cannot set your desired PSI, meaning you will have to watch over it until you are happy with how inflated the tyre is.
Key Points
Tyre Inflation – Under 5 Minutes
Weight – 820g
Price – £22
2. Michelin Superfast Digital Tyre Inflator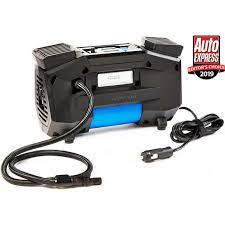 If you want the best tyre inflator on your street then this is the one for you. This system has the best design input over the others, by far.
This kit comes in at over 2kg, meaning it is less portable but has a much stronger, larger battery to inflate your tyres quickly. This Michelin doesn't create the large amount of noise you would expect it to, either, as it is almost identical to the output of the others on this list.
There is the programmable advantage to this system as well, meaning it will auto cut off when reaching your desired PSI, and the digital screen is of nice quality, too.
Key Points
Tyre Inflation – 2 Minutes
Max PSI – 80 PSI
Weight – 2.25kg
Programmable PSI – Yes
Price – £75
3. Michelin High Power With DPS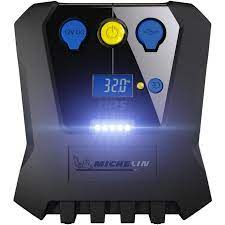 The Michelin high power inflator is our all round best pick due to it ticking all of our boxes, which many inflators cannot do at this price bracket.
This car tyre inflator has a very bright LED light, along with the much needed programmable tyre PSI, meaning you can set to what number you want and kick back and relax.
This model also includes a carry bag, which is lacking in other inflator kits including some of Michelins inflators.
You also have the ability to charge your phone or any device from this kit which comes in very handy.
Key Points
Tyre Inflation – 4 Minutes
Max PSI – 50 PSI
Weight – 1kg
Programmable PSI – Yes
Price – £48
4. Michelin Mini Rechargeable Inflator
With its lightweight design, bag and small size this Michelin mini rechargeable inflator is by far the most portable on the list.
Keep in mind, though, that this is designed for topping up tyres, and not inflating from 0 PSI.
Don't be fooled by its size, the Michelin mini has an accurate digital gauge up to 50 PSI, and a bright LED light for those emergency situations. It takes approximately 3 hours to charge and is compatible with most mobile phone chargers.
If this inflator was able to pump a tyre up from 0 PSI, we would've ranked it as the best tyre inflator of this list.
Key Points
Weight – 700g
Digital gauge – Yes
Price – £48
Want to read more?
Click here to see our latest posts and product reviews