There's always a few items that can easily be forgotten when it comes to car care. Car upholstery always seems like the extra, unnecessary step. However, it's one of the most important when it comes to comfort and convenience. So lets review the best car upholstery cleaners for 2023!
Studies say that we spend over 4 years inside our car cabin, so why not make that a pleasant place to be?
Throughout this article on the best car upholstery cleaners, we will touch on and review the highest rated car upholstery cleaners out on the market for 2023, so you can achieve a clean car cabin with the most ease. Keep in mind that for best results when it comes to car cleaning, specific products that target one area will always come out on top.
Lets get into this!
Best Car Upholstery Cleaners Overview
1. Simoniz Upholstery Cleaner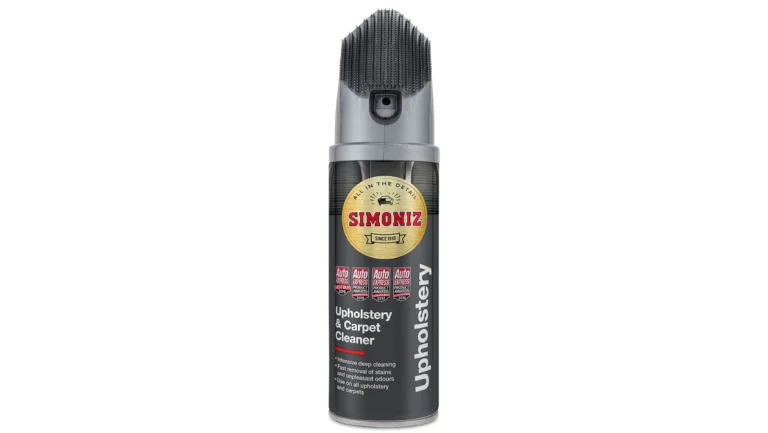 Simoniz has a classic of a formula here. Keeping up with new entries on the ever competitive detailing market without changing their product.
Use of this cleaner is real simple but involves an extra step; spray on, let it soak in, agitate with the handy bottle top and wipe away.
This method of application ensures that deep laying dirt will be lifted out, so may be an ideal upholstery cleaner for drivers of any sort with mess involved in their work.
The cheapest on this list today, but will still deliver reliable results for your cleaning routine hence why its been labelled for budgeting results.
2. Car Gods' Fabric Reviver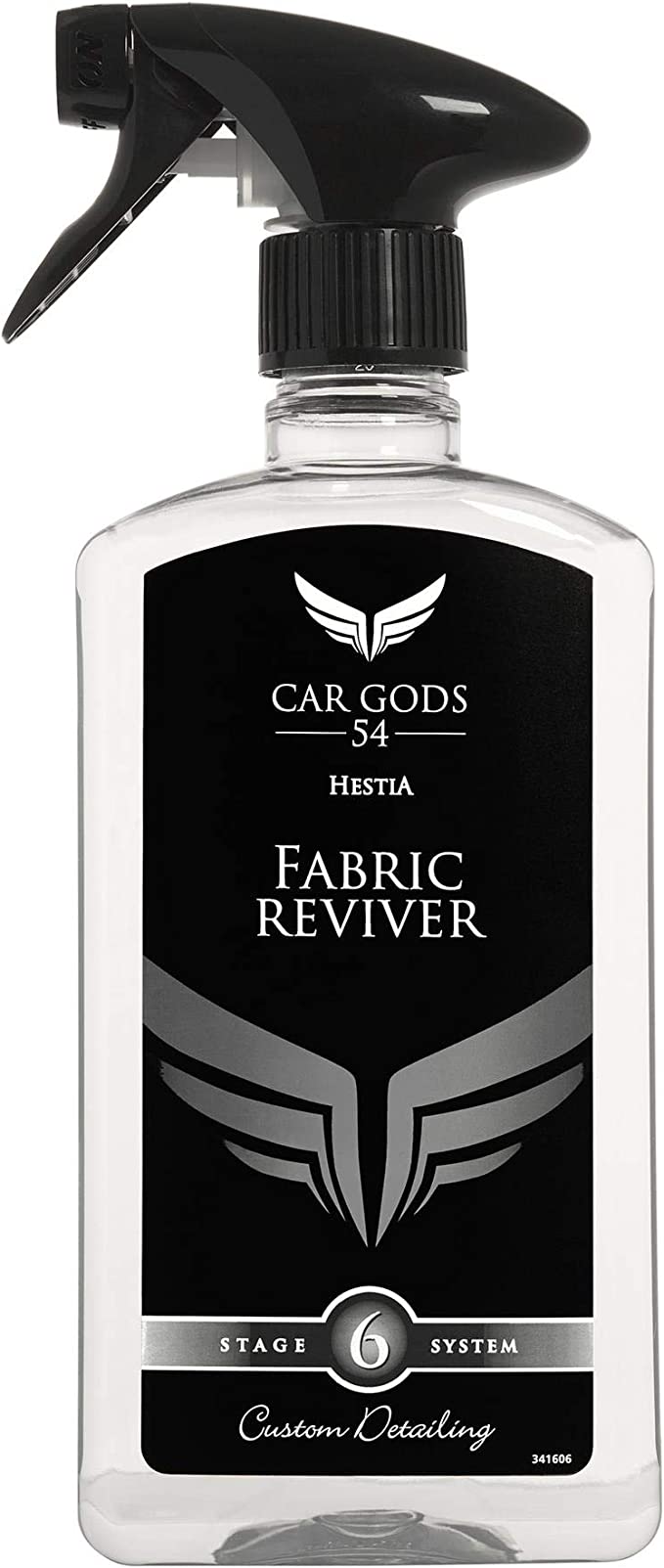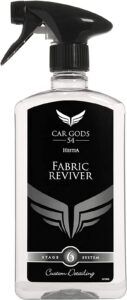 Car gods not only has a stand out brand name, but an interior upholstery product that is much needed for someone who cannot stop making mess. Coming in a 500ml all the way to a 5L bottle, car gods fabric reviver includes UV brighteners to leave a fresh look on what it's applied to, instead of just wiping and sterilising dirt.
Our favourite part of Car gods is the non foaming spray, along with the scent it leaves.
Keep in mind, though, that this is a fabric specific upholstery cleaner and therefore is not as versatile as some other car upholstery cleaners.
However, when paying for a specific cleaner you will always achieve higher results. These being limited to: seats, roof lining, carpets and any other fabric upholstery. It's a shame that it has to have a punchy price tag, but for a professional finish; the extra £4 may be worth it.
3. Maguiars Carpet + Interior Cleaner


Meguiars carpet & interior cleaner is here to show you that mid-price range doesn't mean mid results.
Against several tests including oil, grease, chocolate and more this cleaner walked through them without a struggle. Application is the easiest it can possibly get with spraying on, waiting 30 seconds and wiping off.
This cleaner is a real nice addition to a cleaning kit at an affordable price for the quality it ensures.
4. Autoglym Interior Shampoo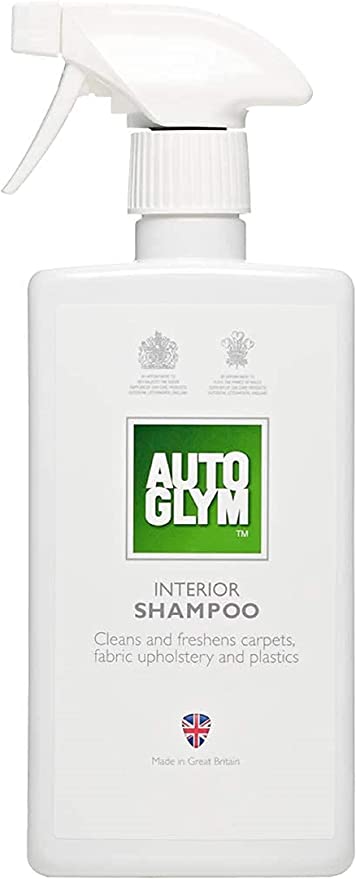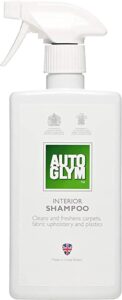 What may seem as a higher price of £7+ is definitely worth the extra pennies. Autoglym has an established, reliable name in the car detailing market for a reason. This interior shampoo holds no difference to their expected quality and has been tested on multiple different stains, such as ground-in chocolate and a grease smear.
The results from the testing showed us that despite a higher price counting against it, Autoglym will stand as a reliable top shelf product.
The current deals for Autoglym are actually really fairly priced, and are on par with other products in the market for 2023.
The Autoglym can also be used on fabrics and leaves a beautiful sheen, so it's worth considering as a single solution for interior cleaning
5. Diamond Shine Upholstery Kit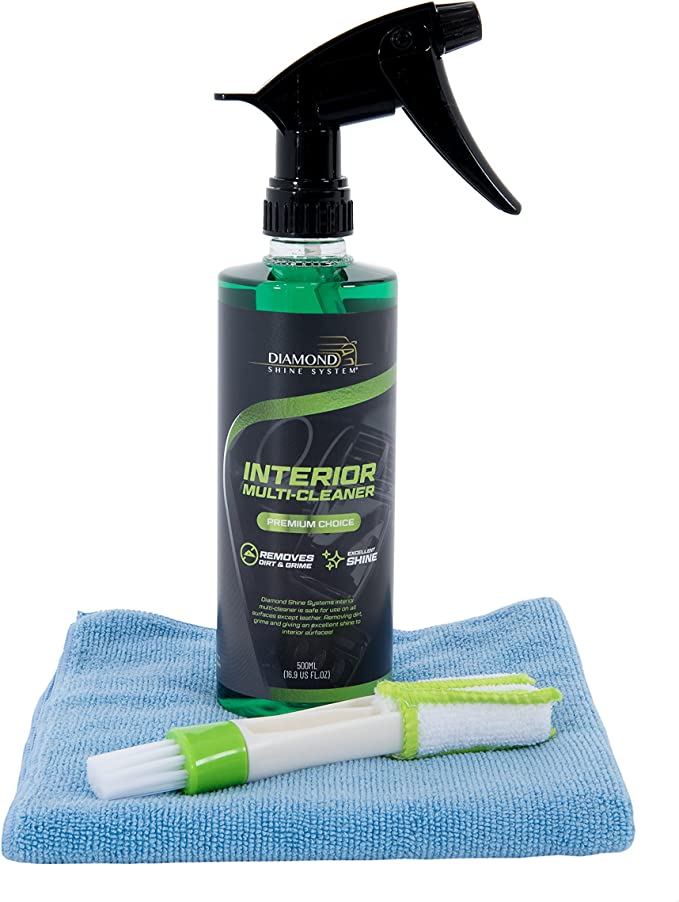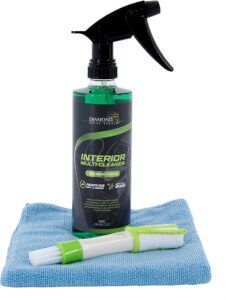 The diamond shine interior cleaning kit delivers a handy bundle for beginners with no equipment.
Its advised that if you have your own microfibres and cleaning trim tools then you should opt in for the spray on its own!
What we love about this bundle is how versatile it is. Upholstery cleaners can offer cleanliness of course, but tools for awkward cockpit trims like air vents aren't always thought of however are borderline necessary for a professional finish.
The spray acts as the perfect surface cleanser whilst making it shine, too. Usable on all surfaces allows for minimal interior cleaners to finish the job.
We would comment that an added leather cleaner, or even window cleaner would make this the perfect bundle for overall car interior cleaning.
So, what is the best car upholstery cleaner?
The answer to this depends on what you are after. Is it an all in one spray on a budget, or are you targeting seats and want a high quality result?
Think about what you are trying to solve by cleaning, and pick according to this. Our advice is to pick a specialised cleaner eg. Leather cleaner for leather seats, over a generic spray cleaner that "does everything".
If you are someone who wants the
best car cleaning kit
out there, check out our post
here
, to make your car cleaning routine even more precise!
Frequently asked questions(FAQ):
How Much To Hire An Upholstery Cleaner?
Renting a professional upholstery cleaner will cost around £25 a day on average. This is a method that can only target carpets and will be near impossible to use on roof linings etc.
We suggest, if you cannot be motivated enough to clean the interior yourself, to hire a car detailing service. This should be a mobile service and prices range from place to place.
For an inside out car cleaning service, prices will start from £20 at standard car washes.
What Is Upholstery Cleaner?
Upholstery cleaners are cleaning products targeting the padded textiles that cover the inside of our car cabins. So when we look for a 'the best car upholstery cleaners', we are looking for car specific cleaning products that will not harm our interior, whilst leaving the driver with a great result of smell, feel and look of the cockpit.