You don't have to be a professional detailer to obtain 10/10 car cleaning results.
According to an online article, a whopping 60% of the British public claim to wash their car themselves; so using the right tools is an important thing, right? Snow foam shampoos are the easiest, most efficient way of cleaning your vehicle, whilst keeping the quality high.
Today we will be going over the 5 best snow foams on the market for 2023 so you can clean you car, and maximise results. Lets go!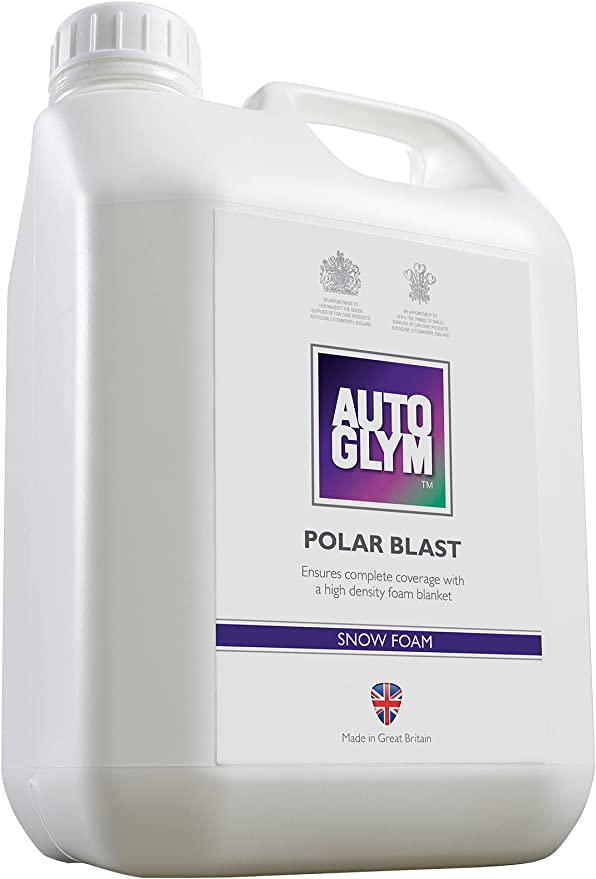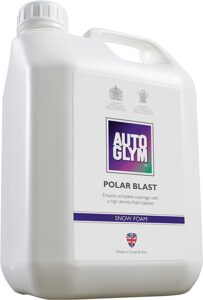 Autoglym has never failed to show the best ratio of quality to price, especially with this foam that has over 15,540 5* reviews.
Besides its price Polar blast produces a lovely blanket of foam, and after a 8-10 minute period will remove all stubborn grime from the cars body.
Due to its pH neutral nature, Polar Blast will not remove any wax or sealants and for £6/Litre, its a great option to pick. Although we did see the recommended dilution which is comparatively low, being 5:1.
2. Chemical Guys Maxi Suds II
Whatcars' Snow Foam Winner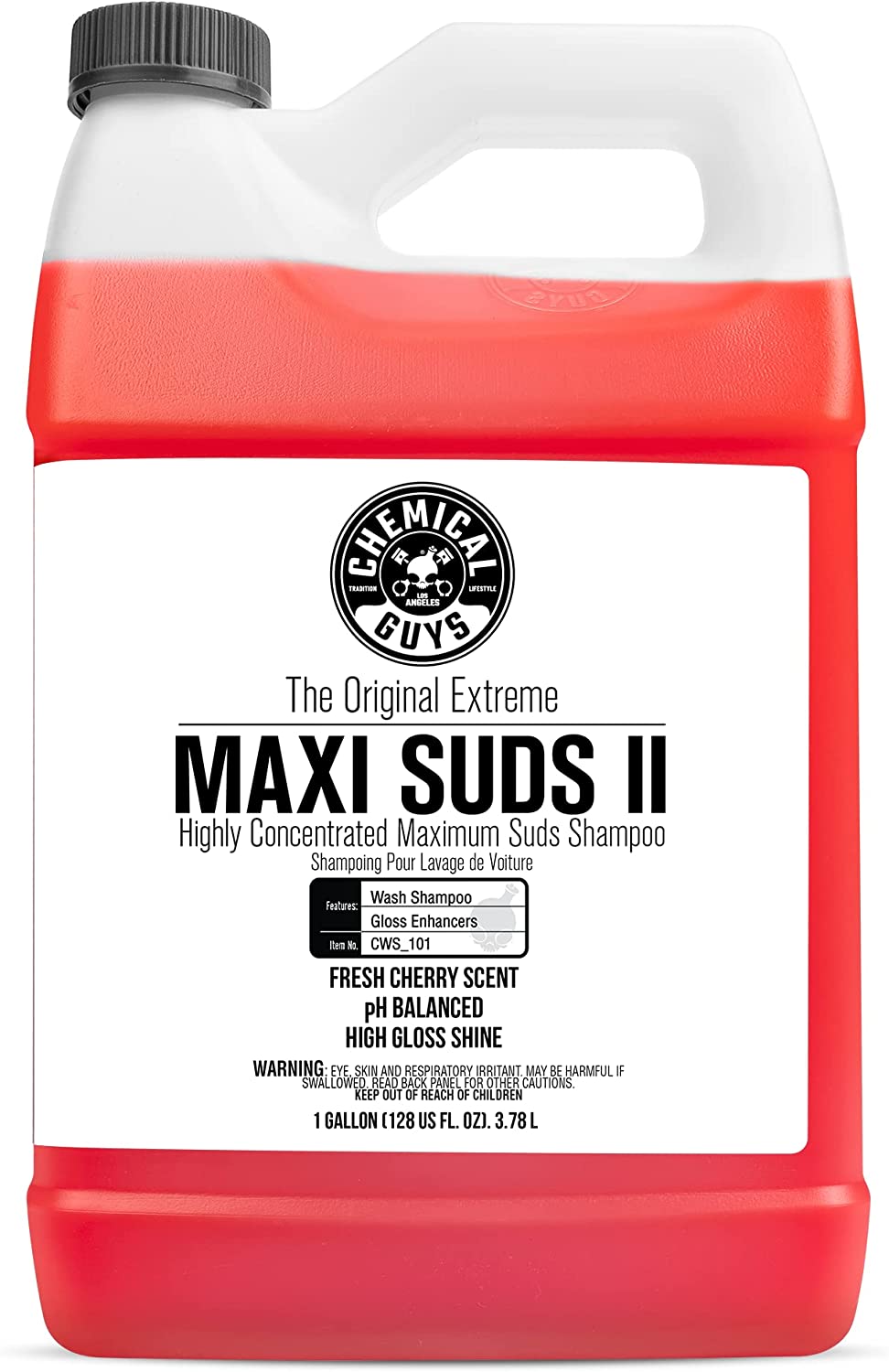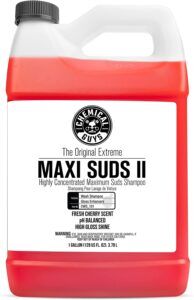 Chemical Guys have won several awards for their products, this one being Whatcar's winner for snow foams. £19 will get you 500ml of this winning formula but before you click away from what seems like a steep price, 500ml will actually produce up to 120L of effective foam.
Certainly some phenomenal numbers to work with, meaning that a tiny drop will give you 1 snow foam wash to use on your car. On top of the great dilution ratio, Maxi Suds give a gorgeous strawberry scent and provides the necessary pH neutral makeup, meaning none of your waxes/sealants will be affected.
Lets not overlook the fact that this also gives a great quality clean, and is not just a nice smelling efficient soap with no punch!
3. Farécla G3 Pro Snow Foam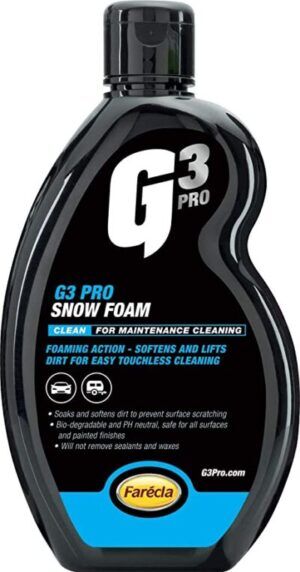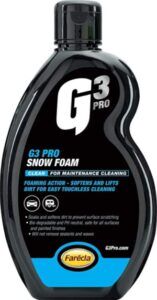 For the very in-depth car detailers out there, pre washing your car is a must to remove surface grime before applying shampoo to the cars body.
Despite being specified for pre-wash, The G3 Pro Snow Foam is rather versatile and still gives very high results with sponge application, and as a shampoo itself, so is a great all-rounder shampoo.
This isn't a complete treatment to your car, like the ceramic foams but offers a good price for a versatile, high quality snow foam.
4. Meguiar's Ultimate Snow Foam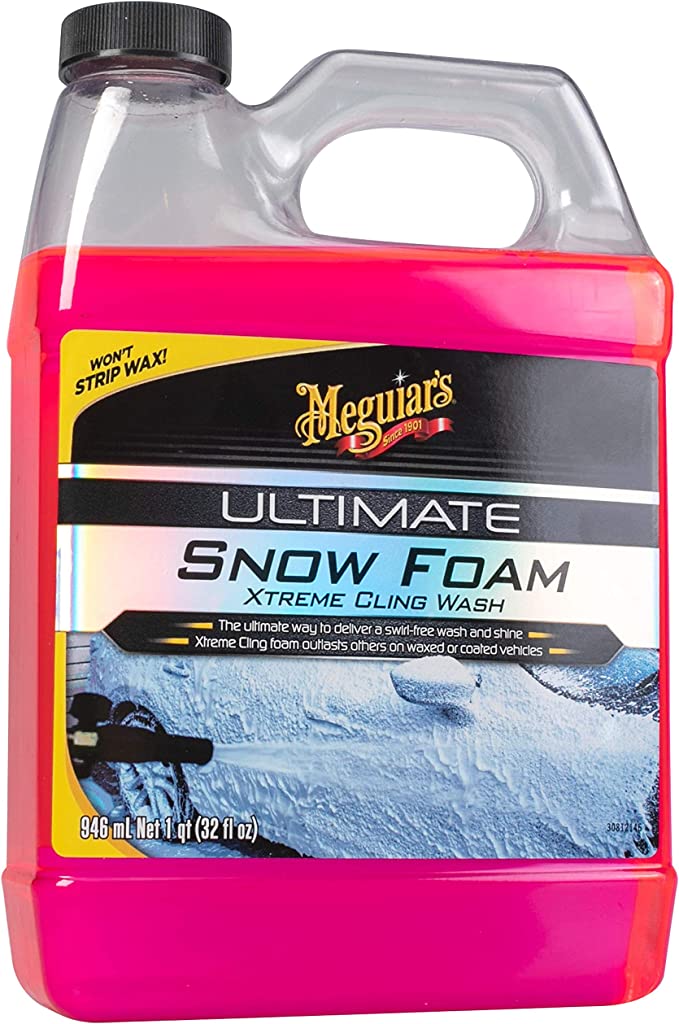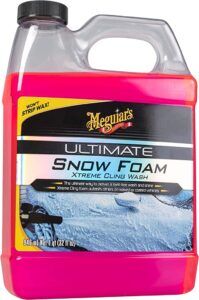 We have reviewed plenty of Meguiar's products in the past, their fleet of products always seem to deliver quality. Their ultimate snow foam is no different, being pH neutral means its a product you can use without worrying for your paint.
We rated it as the best snow foam for waxed vehicles because this product is designed to cling to a waxed surface.
With this in mind, Meguiar's snow foam is a great alternative to the Autoglym giving you 1L for £19, which may seem steep but you only need a drop of this solution to foam up 1 bucket.
5. Car Gods Artic Snow Foam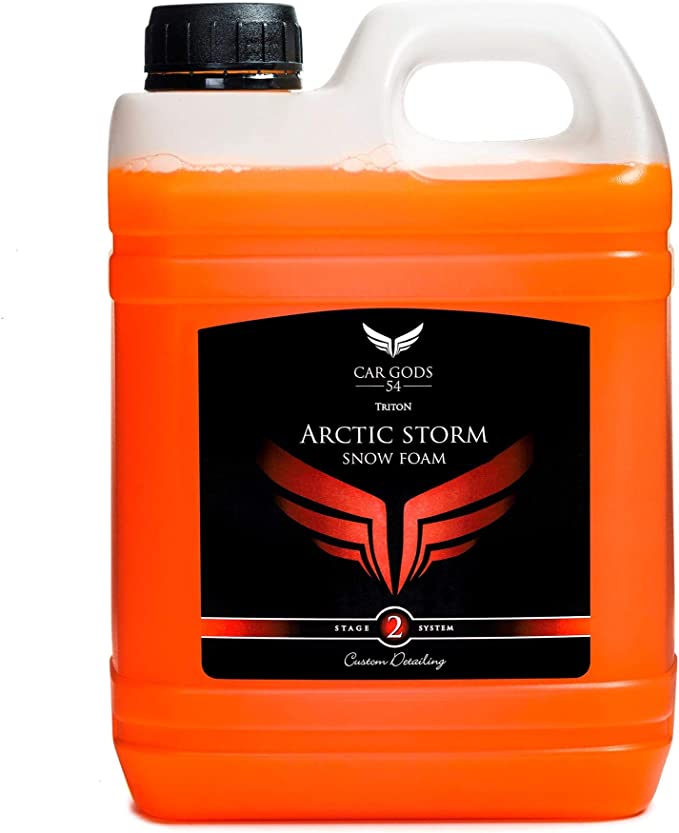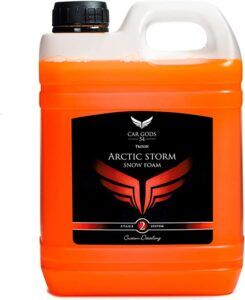 Finally we have Car Gods Artic Storm, whilst scent may not be important to some, Car Gods provides the ideal product for those otherwise. The foam itself isn't the thickest, and looks rather thin compared to some others on the list, but after washing away the cleaning results are more than adequate. After testing, we found panels to gleam and no remains of the dirt that was on previously.
We were pleased to find out the price for 2.5L is at the £20 bracket, giving this unique smaller contender a great value for money aswell.
Something to consider is although you get a large quantity, the recommended dilution is 10:1, much more than some others on the list.
Many of these foams come in kits from the brands direct, aswell as on Amazon. So if you are new to cleaning and want a full kit, make sure to check out our article on cleaning kits here, or by looking online for them.
We would suggest to go for Maxi Suds if you want the best on the market, but you should evaluate your needs and pick another from the list if you are still at a crossroads for what to pick.
What did you think the best snow foam was on this list? Make sure to leave a comment, or email me directly for any suggestions/changes for this, or future articles.